Golf, Leadership and Life Skills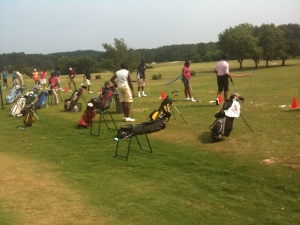 WIGF youth programing is designed with the primary goal of developing leaders. The programs use golf as a focal point to teach critical leadership, competitive and social skills that are required for youth development. The programs focus on girls, but will accept boys if space is available.The youth programs are made available to any youth applying and approved where ever they live.
Over the eleven years of the program's existence, students have participated from Georgia, Florida, Texas, Michigan, Mississippi and Oklahoma. We advertise throughout Georgia in schools, recreation centers, churches and communities with a focus on metro Atlanta. Currently the youth that participate live in North and South Fulton, North and South Dekalb, Clayton, Fayette, Gwinnett, Douglas, Newnan and Henry counties.
The curriculum includes:
 Introduction to the game of golf for girls and boys.
 Golf skill fundamentals – grip, stance, putting, chipping, pitching, full swing, rules and etiquette.
 Learn to play a game that mirrors life and its obstacles.
 Learn the physical and mental game and its relationship to life.
 Intermediate and advanced skill development
 Establishment handicaps and handicap reduction initiatives
 Life skill development to assist in leadership development and the preparation for college.
 Learn decision-making, planning and organization, how to focus and improve self-esteem.
All of the junior golf program supported by the USGA, LPGA, and the PGA Foundation.
The Golf Leadership and Life Skills Program consists of Spring, Summer and Fall Sessions. Summer Camp Sessions culminate with a 9 hole tournaments after each session. 
Summer 2018
Summer Camp
June 11 – 23
College Prep Golf Program
July 17 – 21
Ages 13+ with handicap of 20 or less
Program begins July 17th at noon and ends on July 21st

 

 at noon.
Program curriculum:
Dynamics of competitive college golf
Course Management
Shot shaping
Scoring
Social Etiquette
NCAA Compliance